E-Tracking always tries to solve the problems and difficulties faced by people and then after putting in a lot of effort, careful designing and implementation, we offer our customers secure, unique and life saving solutions and that's the real motto behind our company name "E-Tracking Solutions".
The "Voice Listening Feature" enables the owner of a car to maintain a check and balance by monitoring the voices/ conversation of the passengers & driver with the help of a high quality microphone install hiddenly along with its device. Only one authorized number can call the device and the device will only answer from that one number. Our team will set the number of the owner as authorized caller in device settings. All the calls from any other number will be auto-rejected by the device. Microphone of the device will catch all audio from the car cabin you can clearly hear voices of driver and passengers and even passengers on the back seat depending upon the placement of the microphone of the device. The microphone is of high quality and has a decent range but remember there are several factors which can affect voice clarity like placement of mic at front or back etc.  The device and microphone both will be installed completely hidden so it cannot be visible to anyone to avoid tampering. 
You can get a voice listen device as an add-on with any of your existing packages already installed. The second device will also work as a backup tracker and will be added to your existing E-Tracking account as well. 
Voice monitoring features is extremely useful for individuals to listen to the conversation of their children talks, friends & family, their drivers servants etc.. It is also useful for corporate clients to keep track of their staff, rent a car customers and many other scenarios.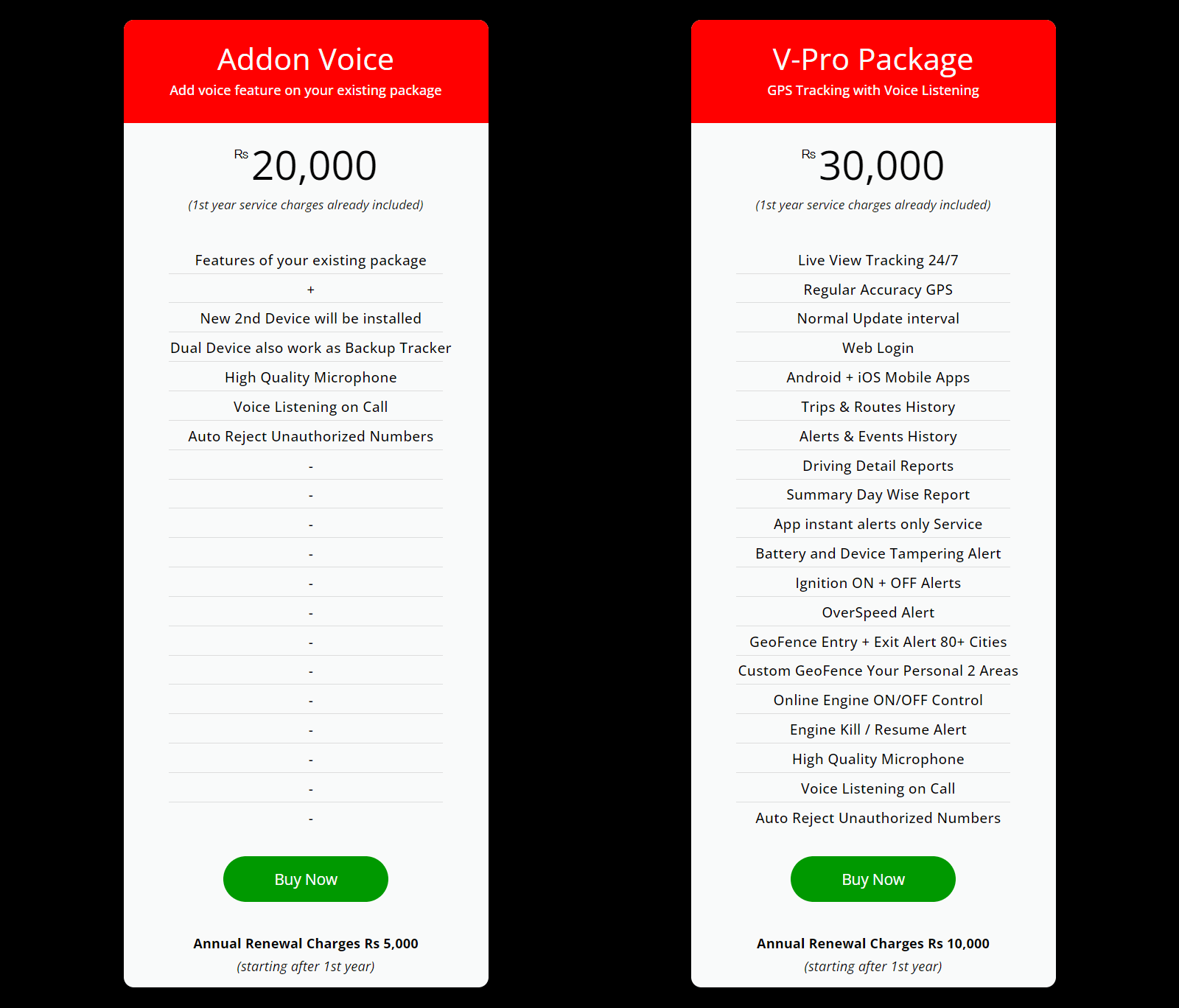 Addon Voice
Add voice feature on your existing package
₨
20,000
(1st year service charges already included)
Features of your existing package

New 2nd Device will be installed

Dual Device also work as Backup Tracker

Auto Reject Unauthorized Numbers
V-Pro Package
GPS Tracking with Voice Listening
₨
30,000
(1st year service charges already included)
Android + iOS Mobile Apps

App instant alerts only Service

Battery and Device Tampering Alert

GeoFence Entry + Exit Alert 80+ Cities

Custom GeoFence Your Personal 2 Areas

Online Engine ON/OFF Control

Engine Kill / Resume Alert

Auto Reject Unauthorized Numbers
* Some features are dependent on the vehicle type & compatibility so will be first confirmed by our technical team and some features not included in the package price which can be purchased as optional addons.
Take necessary action in time
Giving you full control for tracking and surveillance services
Experience the most innovative and life saving features